11/07/2023
Device Storage in TV Beds and TV Lift Cabinets
By Caden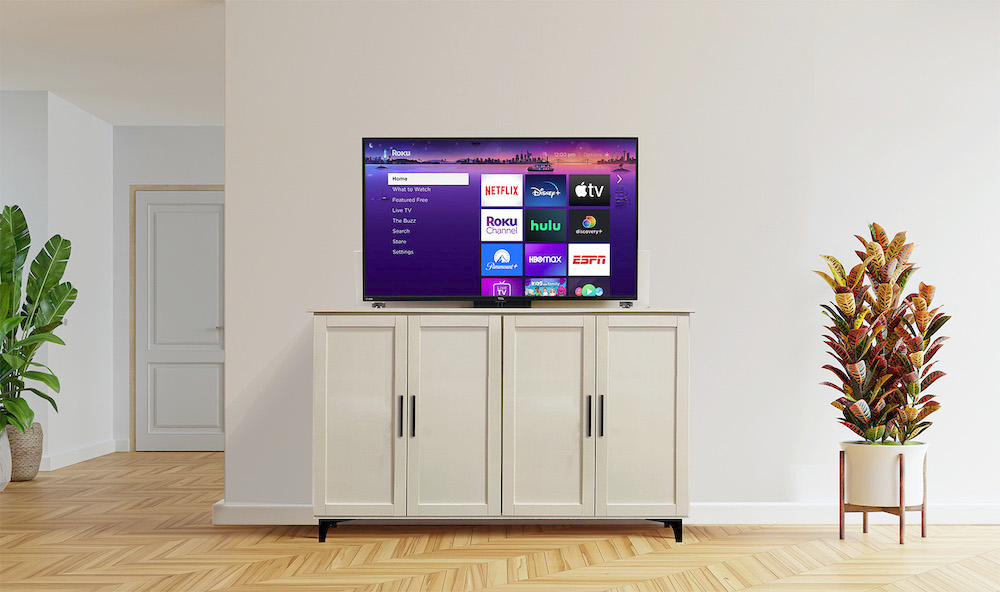 Introduction
Technology has crept into every facet of our lives. Just think about it, if 10 or 15 years ago somebody told you that your doorbell might be connected to the internet, would you have believed them? It's everywhere! Our watches, our cars, our phones, and, yes, our entertainment. With the rise of smart TVs, gaming consoles, and streaming devices, finding an efficient and aesthetically pleasing way to store and manage these electronics is crucial. There was a time that displaying a huge TV on your wall was a signal of status, but these days hanging a hunk of black plastic on the wall isn't quite as cool anymore.
This is where TV lift cabinets and TV beds come into play, offering innovative solutions to keep your devices organized and accessible. In this blog post, we'll explore the various options available for device storage in both TV lift cabinets and TV beds, along with tips to make the most out of these storage solutions.
Types of TV Lift Cabinets
Basic and Basic Plus Cabinets
The basic and basic plus TV lift cabinets provide a sleek and minimalist design, but they don't have functioning doors. As a result, devices are typically stored in the bottom of the cabinet. To make the most of this space, consider using cable management solutions to keep cords organized and prevent tangling.
What is a Basic cabinet?
Slim construction: Basic cabinets start at a total cabinet depth of 16″. This slim construction creates a cabinet that is inconspicuous and non-intrusive, which is especially handy for smaller rooms.
No functional storage: Our Basic and Basic Plus cabinets have beautiful doors on their face that are not meant to be regularly accessed. These doors are, for all intents and purposes, non-functioning. Storage and Media consoles, on the other hand, have cupboards and drawers with storage space in front of the TV lift compartment.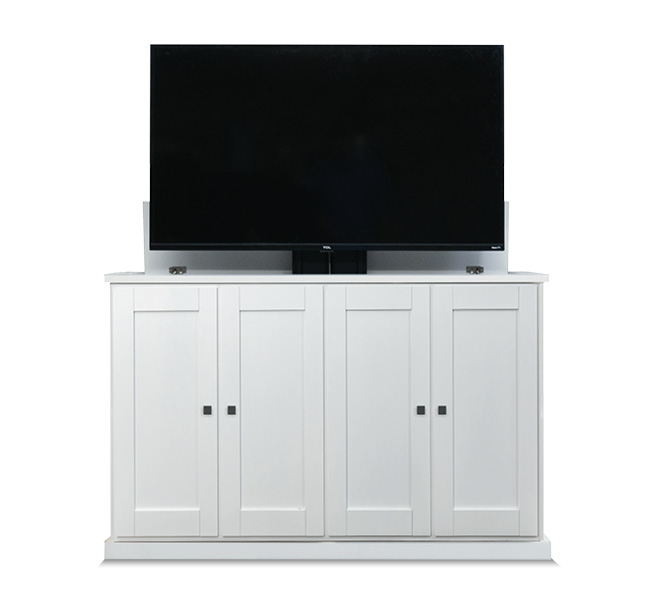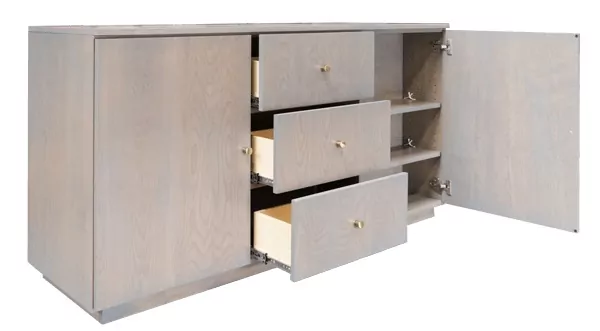 Storage Cabinets
Storage cabinets are designed with functioning doors and/or drawers, offering ample space for devices and other entertainment essentials. These cabinets provide a clean and clutter-free appearance, making them an excellent choice for those who value both form and function.
What is a Storage cabinet?
Holds up to a 60″ TV: Storage TV Lift Cabinets can hold a maximum TV size of 60″. This is the official size of the TV, which is determined by a diagonal measurement of the face of the TV.
Functional Storage: Storage cabinets have doors and drawers with functional space to allow storage for devices as well as other miscellaneous items.
Media Console Cabinets
Media console cabinets are very similar to storage cabinets, but the key difference is that media console cabinets will hold up to a 65-inch TV. These cabinets are perfect for individuals who want a comprehensive storage solution. These cabinets not only provide space for devices but also offer additional compartments for DVDs, gaming accessories, and more. The combination of open shelving and enclosed storage ensures that everything stays organized and within easy reach.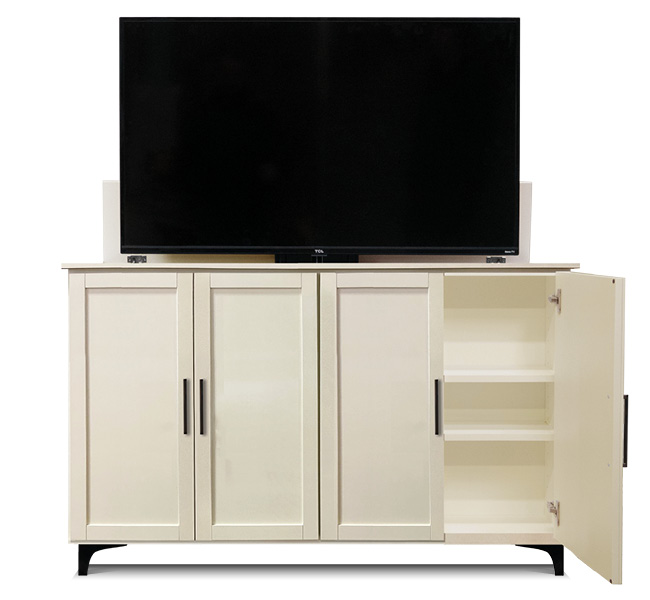 Device Management with the IR Emitter
An IR emitter, short for infrared emitter, is a compact electronic device designed to emit infrared radiation. This invisible light spectrum is used to transmit signals from a remote control to compatible electronic devices. In the context of TV lift furniture, the IR emitter acts as a bridge between your remote control and the lift mechanism, enabling you to effortlessly raise or lower your television with just a press of a button. This technology allows for a clutter-free setup, eliminating the need for manual operation or additional cables.
One of the key advantages of incorporating an IR emitter into your TV lift furniture is its ability to offer a discreet and streamlined entertainment experience. With the emitter strategically placed, you can conceal your electronic components within the furniture, maintaining a clean and organized living space. This not only enhances the aesthetic appeal of your room but also minimizes the visual distraction of unsightly wires and equipment.
Device Storage in TV Lift Cabinets
For customers who choose a TV lift cabinet, there are several strategies to optimize device storage:
Cable Management: Use cable clips or ties to neatly organize and secure cords, preventing them from tangling or becoming unsightly.
Utilize Drawers and Doors: Take advantage of the functional doors and drawers in storage and media console cabinets to keep devices hidden when not in use, maintaining a clean and organized appearance.
Adjustable Shelves: If your cabinet comes with adjustable shelves, customize the space to accommodate various device sizes and accessories.
Device Storage in TV Beds
TV beds offer a unique and space-saving solution for device storage. While they don't have built-in storage for devices, there are still practical options available:
Open Space in the Footboard: Many TV beds have an open space in the footboard to the left or right of the TV where smaller devices like streaming devices can be conveniently stored. Caution must be taken if this route is chosen to ensure no devices are damaged.
IR Emitter System: Consider utilizing an IR emitter system to remotely control your devices even if they are stored elsewhere in the room. This system allows you to maintain a clean and clutter-free look in the bedroom.
Captain's Bed: Adding the captain's bed base will give you six large drawers beneath your mattress. One of these drawers would function perfectly as a device storage hub.
Under-Bed Storage: For larger devices or additional storage needs, consider using under-bed storage solutions like drawers or bins to keep devices accessible yet out of sight.
Media Nightstand: In combination with our IR emitter system, power supplies, and the media hub, an inconspicuous nightstand can be transformed into an entertainment center for your bedroom. All devices, including media players and gaming consoles can safely be stored in these unique nightstands.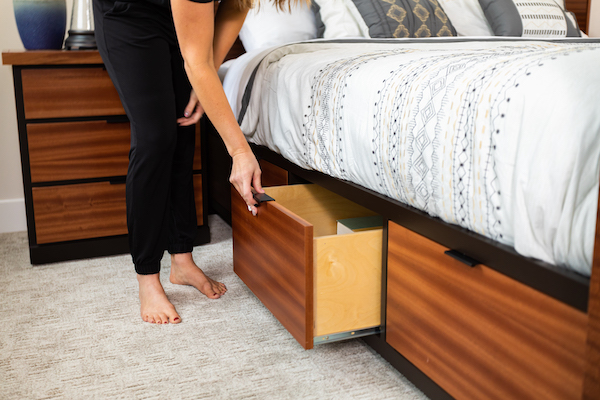 Conclusion
Finding the right storage solution for your devices is essential for creating a functional and aesthetically pleasing living space. Whether you choose a TV lift cabinet or a TV bed, there are various options available to accommodate your specific needs. By utilizing cable management, functional storage spaces, and innovative solutions like IR emitter systems, you can maximize device storage and enjoy a clutter-free environment. Invest in a TV lift cabinet or TV bed today and experience the convenience and elegance they bring to your home entertainment setup.
Still have questions?
Call now and speak with a live person to find answers to all of your questions.