We might be a little biased, but we really like TV beds. The experience of kicking off your shoes, jumping into a comfortable bed, and popping up the TV to unwind is amazing. And, almost as amazing is the ability to make the TV disappear into your foot board when you aren't using it; your room will be clean and decluttered. Plus, the TV won't constantly be there drawing your attention away from connecting with your loved ones.
About five minutes after we started building TV beds, we realized that many bedrooms have a seating area opposite from the bed where the TV needs to be watchable. To accommodate this need, we're happy to announce the newest addition to our line of TV lift mechanisms: The 360º Swiveling Mechanism. This incredible mechanism allows you to use your TV bed to watch from any angle in your room. Plus, it has a few other features that make it the very best TV lift mechanism in our line.

The Swiveling
Obviously, the main feature of this mechanism is the swiveling. It is the only mechanism in our line that can swivel 360º, so, let's talk about how the swiveling works.
The mechanism swivels manually, so if you want to turn it around, you simply grab the edge of the TV and turn it around. When it is off-center, there is a built-in safety feature that will not allow the mechanism to lower back into the TV lift footboard. This is to prevent the TV, the mechanism, and the TV lift footboard from sustaining any damage.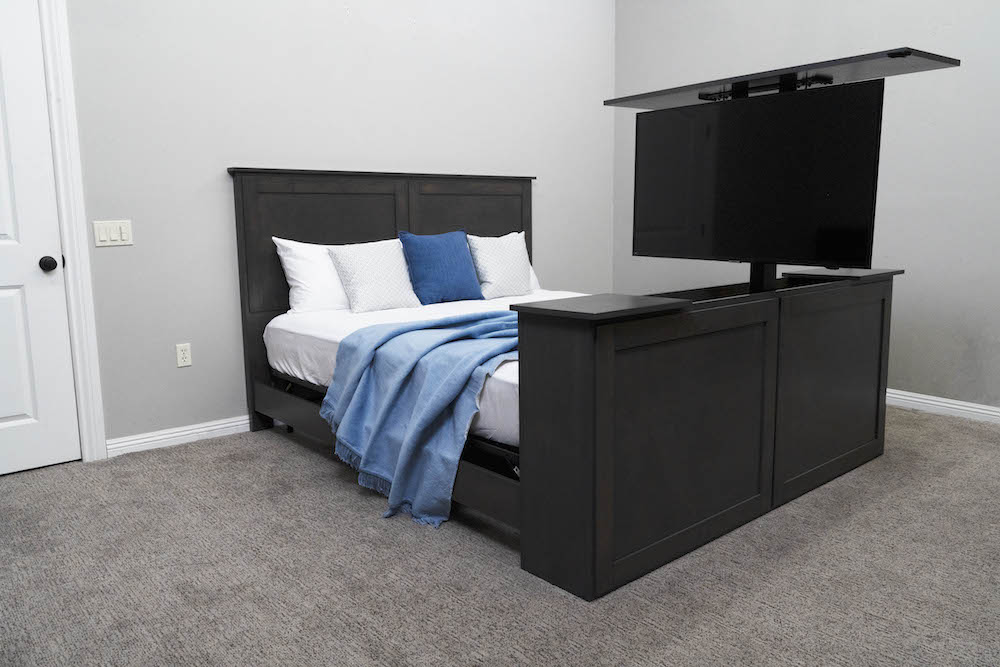 Operating the Lift
Operating the TV lift mechanism is simple and there are two control methods included: a remote or manual buttons. The remote control operates off of RF waves, which don't require line-of-site. This means you can operate the lift from anywhere in the room. When you push "up" or "down" the lift will automatically rise or lower fully, which means you don't have to hold the buttons down. Plus, if you want to install a stop for the mechanism so that it will never go higher than a certain point, you can add a stop point easily. There are also up and down buttons on the back of the footboard that work exactly like the remote control, so if the remote is misplaced you can always use the manual buttons.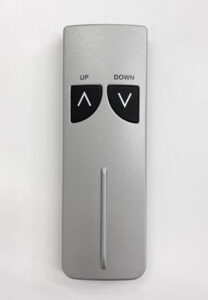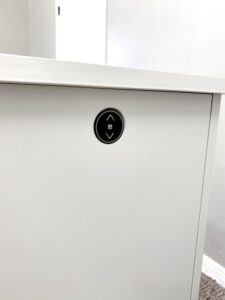 Adding the Swiveling TV Lift Mechanism to Your TV Bed
We are not a retailer, we actually build every TV bed we sell by hand here in the USA. This means that you can customize many aspects of your bed, including which tv lift mechanism you would prefer. It's important to note that the swiveling mechanism comes with every benefit of the deluxe mechanism as well, which means you can use up to a 50-inch TV with this mechanism.
The 360º swiveling TV lift mechanism requires a bit more cabinet space, so please note that the TV lift footboard will be about 2" deeper than standard when you add the swiveling lift mechanism.
To place an order, simply purchase online through our bed builder or call in at 801-515-3911 and ask to add the swiveling mechanism to your order
With many TV lift mechanisms, finding a TV that will work is a headache, but this isn't the case with our swiveling mechanism. This mechanism has our most versatile TV mounting system. Unlike the standard and deluxe mechanisms, the swiveling mechanism has universal TV compatibility. This means that you don't need to worry about what VESA pattern your TV has, as long as it is a 50-inch or smaller and it is not deeper than 3.25″, your TV is good to go.
Not only does universal mounting compatibility make it easier to find a new TV that will work in your TV lift footboard, (less time searching through spec sheets and our "will my TV work" guide) but it also increases the likelihood that a TV you already own will work with our bed.
For your convenience, we offer great smart TVs that pair very well with our TV beds.
Specs
| | |
| --- | --- |
| Price | $849 additional to the price of any piece of TV lift furniture |
| TV Compatibility | 50-inch TVs and smaller |
| VESA Standard | Universal |
| Controls | RF remote and rocker switch |
| Travel Distance | 39.25″ |
| Swiveling Capability | 360º |
| Weight Capacity | 100 lbs. |
| Warranty | 10 years |
Bed Frames with the Swiveling Mechanism
Like any of our TV Beds, a TV bed with the swiveling mechanism includes our SureSupport Bed Frame™. This bed frame is extremely strong and is a breeze to set up. On a king size bed, there are four solid wood slats each with two support legs, queen and full size beds have one leg per slat, and twin size beds don't have any legs.
If you're looking for more storage, the captain's bed base is also an option for the swiveling TV lift mechanism. This option completely eliminates side rails and bed slats and adds six very large drawers on full extension drawer glides beneath a mattress platform. With the captain's bed option box springs are not required, but if you prefer a very tall mattress, you can always opt to add your own box spring.
This mechanism, and all of our standard TV beds, is compatible with adjustable bases. See more about our bed frame options.