Have you ever considered improving your bedroom design with a TV bed frame? Had you even heard of a TV bed prior to reading that sentence? Most people haven't, but there are some pretty compelling reasons why you should seriously consider the ultimate level-up in your bedroom design with a TV bed frame.
In order to design the perfect bedroom, it's essential to consider both the style and the functionality of the elements in it. If you neglect either one of those, you'll end up with a bedroom that is uninviting, uncomfortable, or just ugly. This is the beauty of a TV bed, it can dramatically improve both the functionality and the design of your bedroom, thereby creating a space that is inviting and soothing, as any good bedroom should be.
It's as simple as the name suggests: a TV bed is a bed that has a built-in TV concealed within. The TV is raised and lowered out of the footboard of the bed through some sort of a lifting mechanism (usually an electric TV lift mechanism). This allows you to raise your TV out of the footboard when you want it, and then make it disappear when you don't. (Learn more about TV lift furniture)
Reason #5: Well, this is a little awkward…
Your bedroom shape, that is. An awkwardly shaped room can sometimes be the hardest part of creating a bedroom that is comfortable and functional. For example, most people who have a TV in their bedroom hang it on the wall opposing their bed, right? Well, what if that wall is quite far away? Or at an odd angle? If you were just planning on hanging your TV on the wall in one of those situations, you may be out of luck.
A TV bed frame isn't impacted by an awkward room layout; your TV will always be perfectly positioned to create a comfortable, functional bedroom experience.
Reason #4: A room with(out) a view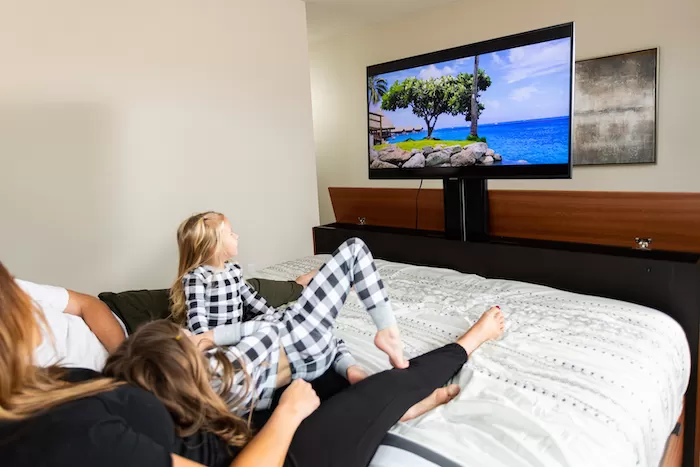 When you positioned your bed in your bedroom, what were the factors you took into consideration when choosing its placement? Would I be totally off in assuming that you probably considered where the windows in the room are? Probably not. Windows in your bedroom are crucial to create a bright, comfortable environment that you enjoy spending time in. They also typically offer some form of an enjoyable view. 
Consider a bedroom with a wall of windows opposing the bed. This room will be full of natural light and will produce a very satisfying view to wake up to in the morning. The problem is that, if you want a TV in the room, you can either place it on a wall that is parallel to your bedroom (hope you're a side-sleeper) or you can commit the unforgivable sin of blocking the windows. Luckily, you can have your cake and eat it too! A TV bed will allow you to watch TV comfortably in bed without having to sacrifice your view.
Reason #3: Would you hang your toaster on the wall?
Why did it become normal to hang a TV on the walls of our home? TVs are not like a beautiful piece of artwork that you want on display; they fulfill a function. You probably use your toaster pretty regularly, why not just hang it on your wall, too? Because, while they can be beautifully designed, toasters, vacuums, dishwashers, and TVs are not design elements. They are machines designed to perform a function, and they should not take away from the design of the room they are in.
Imagine what you could do with the wall space that your TV currently uses. You could hang a mirror to open the whole room up, you could hang a piece of artwork to display, etc. Maybe I'm a little passionate about this, but I think that there's a reason that Michelangelo didn't paint a huge black rectangle as the focal point of the ceiling of the Sistine Chapel.
Reason #2: Connecting with loved ones
Humans tend to flow down the path of least resistance. We like to turn our brains off and be entertained. The problem is that sometimes communicating and connecting with those around us can require effort. This effort is usually rewarded many times over, but after a long day at work, sometimes the thought of delving into a rich, meaningful discussion with your significant other can seem exhausting. So, if there's a TV a few feet away, it can be pretty tempting to turn it on and turn your brain off rather than expend the effort to connect with your significant other.
This is not the case with a TV bed. The TV is only there when you want it, so watching TV in bed is no longer the default; it is an active choice. If you're anything like me, you'll actually find yourself watching less TV with a TV bed frame than would with a TV hanging on the wall in your bedroom. But then, when you decide that you'd like to kick your feet up and unwind with your favorite shows, it's still fully accessible.
Reason #1: Your bedroom is your sanctuary
The world is hectic. It's scary, it's frustrating, and it's exhausting. Your bedroom should be your oasis in this hostile world. It should be a sanctuary where you can relax, unwind, and emotionally heal and prepare yourself for tomorrow. Think about how it feels to walk into your home after a tough day. It feels like you can finally drop your guard and relax, like the weight of your worries can melt away and you can finally breathe.
Your bedroom should be the home within your home, where you can relax most deeply and rejuvenate yourself. This is why creating a room that feels and functions appropriately is so important. A TV bed can be the centerpiece of your sanctuary, where you retreat to most fully unwind and allow yourself to be pampered. It can allow you to forget about the stressors in your life and just switch your brain off to recharge.
Conclusion
Even though you may have never heard about a TV bed frame, take a minute and consider how it might improve the style and function of your bedroom. You may find, like I have, that it really is the ultimate next-level of bedroom design. Take a look at our TV beds and see if there's one that tickles your fancy!